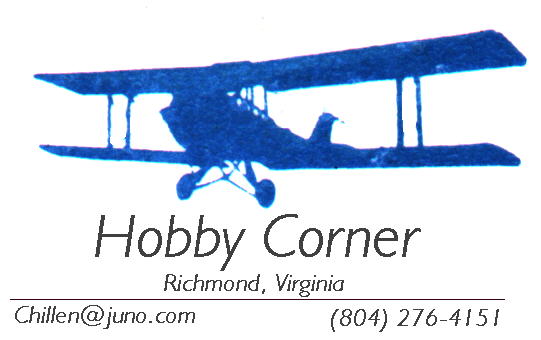 ---
Richmond Area Radio Control is pleased to be affiliated with Hobby Corner of Richmond, VA. They have been serving the modeling community for over twenty years providing assistance to both newcomers and experienced pilots. With it's location in southside Richmond, pilots from the surrounding area visit the Hobby Corner for brainstorming and barnstorming.
---
Other Places of Interest!
The world's largest provider of RC equipment
Sorta large provider of RC equipment
A kinda big provider of RC equipment (bearings)
A gigantic site for RC helicopters
A humongous (a least some of their members are) club located in Petersburg, VA
---
RARC "For Sale" and "Wanted to Buy"
Please follow the link below and carefully complete each section for advertising only. If you want to correspond with someone in the club, contact them directly or use the RARC Guestbook located elsewhere on this site.